Украшения "LOVERS EYE".
Глаза любимой.
Многим сейчас эти вещицы непривычны, даже пугают(еще когда в таком количестве собраны).
Но ведь это- глаза любимых людей. Фотографий не было, из средств связи- только почта, целый миниатюрный портрет стоил очень дорого, да и анонимность не сохранялась, что самое главное.
Украшения "LOVERS EYE".
С ними связана , по легенде- такая романтическая история: будущий король Англии
George IV получил в подарок от возлюбленной миниатюру с изображением только ее глаз, чтобы посторонние не могли узнать персонажа и влюблюбленные могли бы сохранить в тайне свои отношения. Такие памятные миниатюры вошли в моду и стали очень популярны в 1790- 1820 годах, да и позже их делали везде- в Англии, Франции,России.
Франции,России.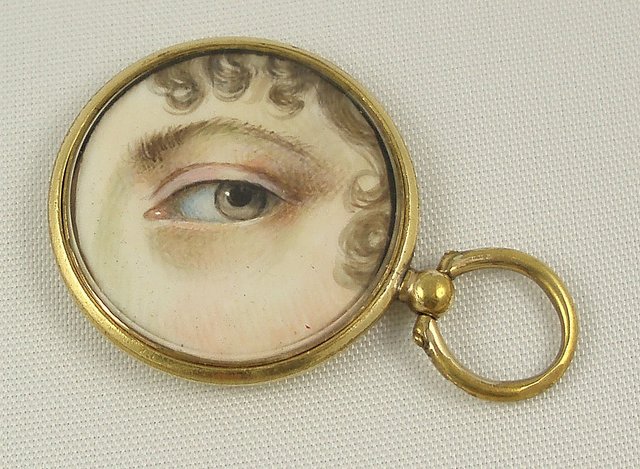 A rare American eye miniature c. 1815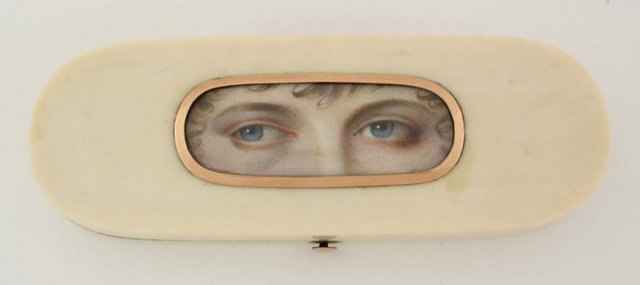 Миниатюра на коробочке слоновой кости.
Eye miniature set in ivory patch box Georgian Circa 1790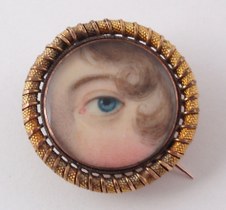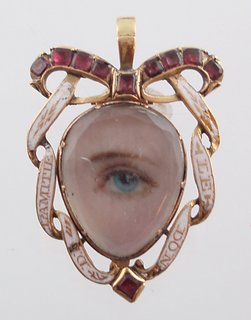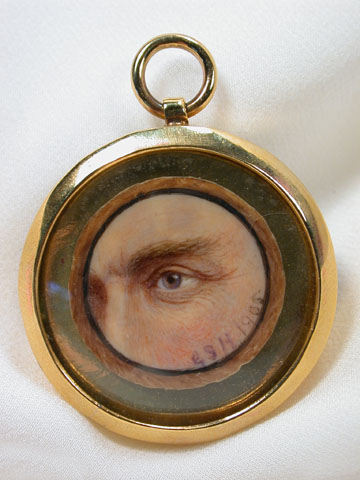 1.Eye miniature handpainted on ivory Georgian C. 1800
Сохранились броши, заколки, медальоны, шкатулочки, браслеты, где изображены только глаза, часто с ними соседствует локон или плетенка из волос любимого человека, часто ребенка или родственника, не только возлюбленного. На браслетах и медальонах иногда встречается и несколько миниатюр, тогда мемориальные украшения были в большой моде. Многие "глаза" были в паре с портретами или миниатюрами целиком, в музеях такие пары сохранились.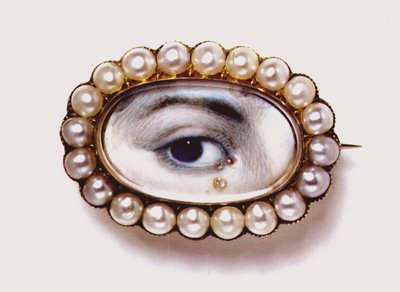 A splendid miniature eye portrait from the Victoria and Albert Museum, with a diamond teardrop.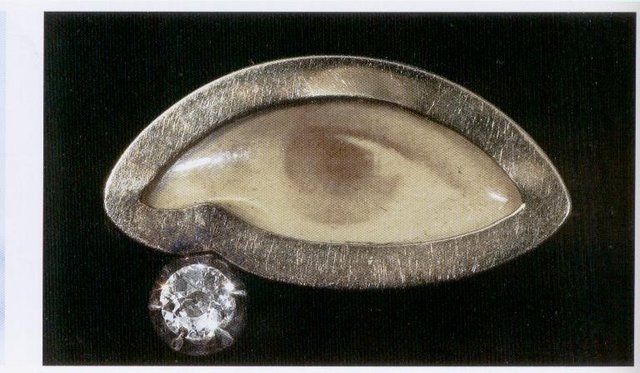 Dawes eye miniature - diamond tear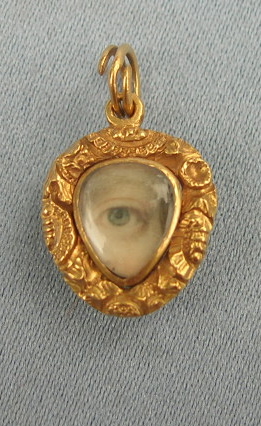 Notice the Rococo influence on the border to this piece, something which was also prevalent from 1815 onwards.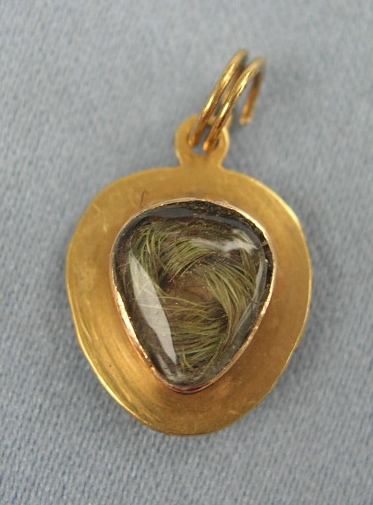 A rare American eye miniature c. 1815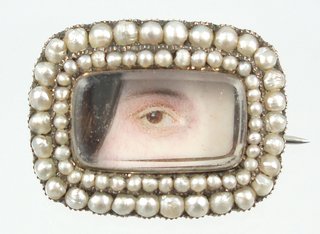 Lover's eye miniature hand-painted on ivory surrounded by a double row of pearls. Brown eye of a lady with brown hair painted down the side of her face. Circa 1820.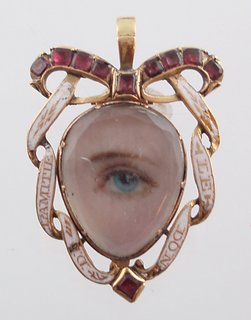 Eye Miniature pendant
Georgian
C. 1790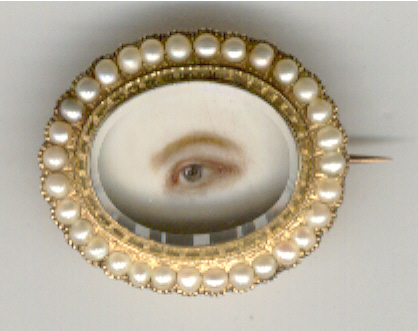 This eye miniature brooch is a wonderful painting on ivory of a woman's eye. Gold and pearls. Dated 1845.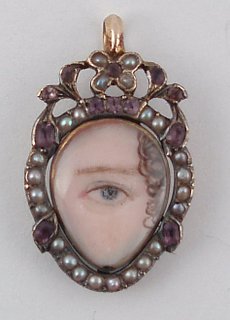 Eye Miniature painted on ivory
Georgian
C. 1790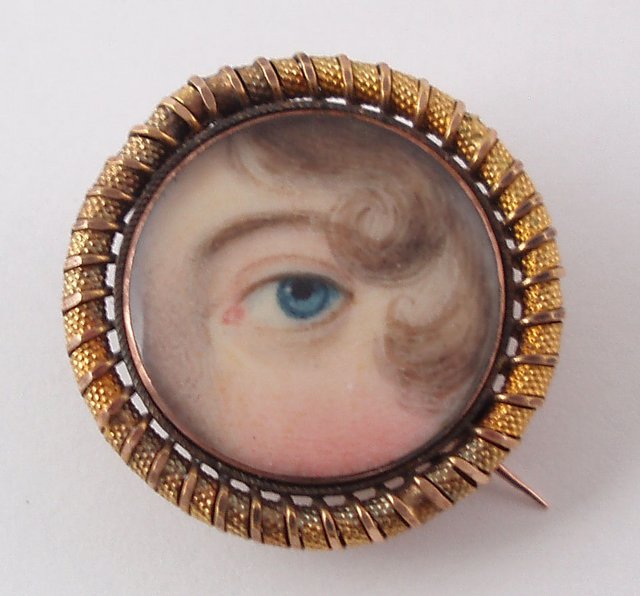 Eye miniature handpainted on ivory
Georgian
C. 1800
1840 ENGLISH GEORGIAN MINIATURE LOVER'S EYE PENDANT
GEORGIAN Lovers Miniature Eye Heart Frame Garnets Pendant Reliquary
Georgian Miniature Lady Lovers Eye in Gold Heart Bracelet w/ garnets
Georgian Miniature Lady Lovers Eye in Gold Heart Bracelet w/ garnets
Georgian Miniature Gentlemans Lovers Eye in Gold Locket
Georgian period eye miniature mourning ring dated 1780. Courtesy of Lenore Dailey of Lenore's.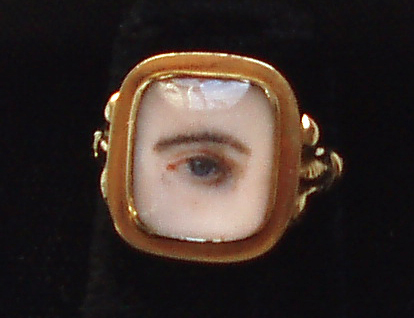 Hand-painted blue eye miniature ring circa 1800.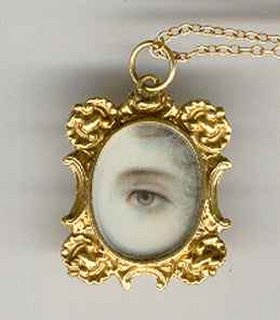 Lover's eye pendant--hand-painted on ivory and set in 18K gold. C early to mid 1800s. Back of pendant has a compartment for hair.
Georgian ivory patch box with eye
Circa early 1800s
Oval ivory patch box with an eye miniature painted on card.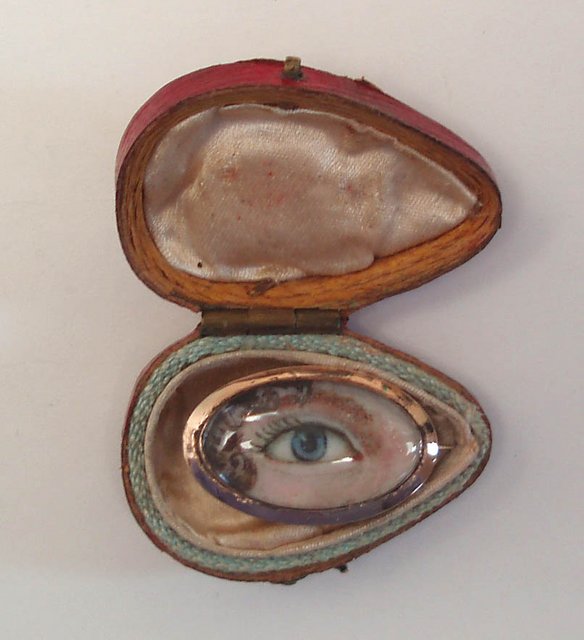 Pin in original leather box.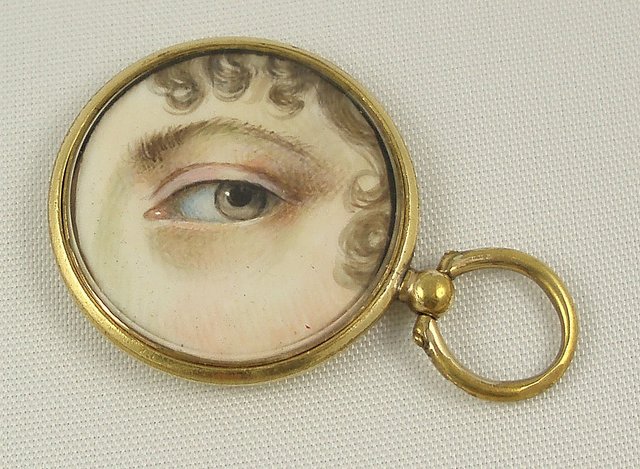 Lover's eye handpainted on ivory of a beautiful woman with a hazel eye, surrounded by brown curls. Mounted in gold shell pendant. Note the direction the eye will hang when worn.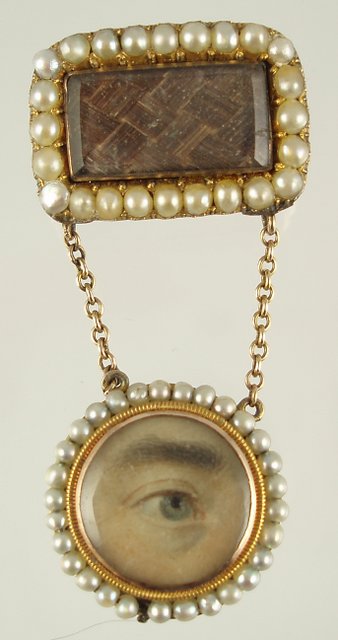 Lover's eye
C. 1820
Light blue man's miniature eye, hand painted on ivory, set in a yellow gold round pendant mounting, surrounded by wire strung seed pearls. Shows signs of an old repair on back. Suspended by chains from an added rectangular hair brooch, which is surrounded by split seed pearls. The hair pin has some separation in the metal on back. O rings have been added to the hair pin so it can be worn as a pendant.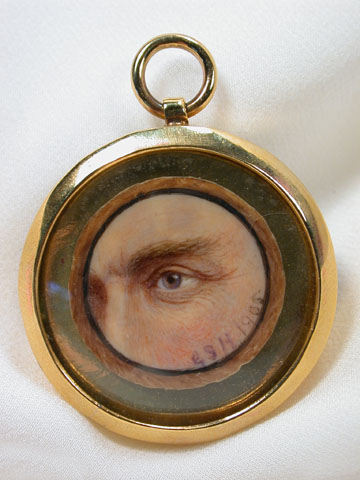 Eye Miniature Portrait
Gerald Sinclair Hayward (1845-1926), a Canadian miniature painter
1905
Late for eye miniatures, it is dated 1905 and is also quite unusual that it is a man's eye.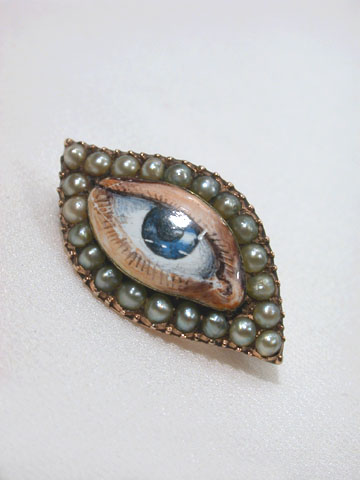 Lover's eye
Circa 1800
An enigmatic enamel eye in the overall eye shape referred to as a shuttle shape, used only for a few years around 1790-1800 or a touch later.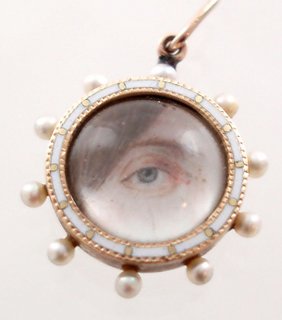 Georgian eye miniature brooch
Circa 1830
Round lover's eye miniature of a female blue eye with hair painted on ivory under rock crystal. Gold frame is enameled in white with natural pearls set in a wheel formation.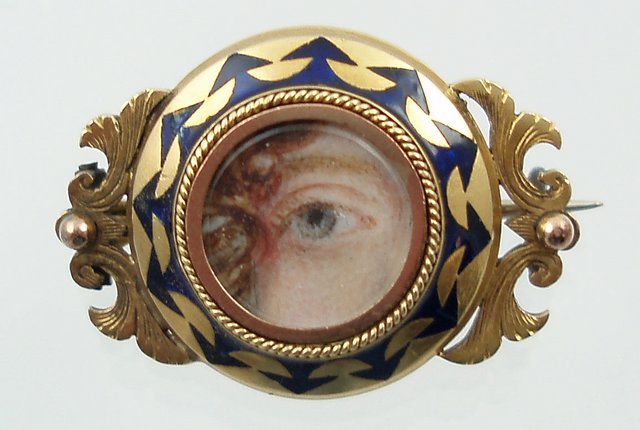 Georgian eye miniature brooch
Circa 1820s
Lover's eye miniature painted on ivory set in 18K gold enhanced by blue enamel. This lovely lady is a rarity due to her red-gold hair. A lock of hair is encased in the locket in the back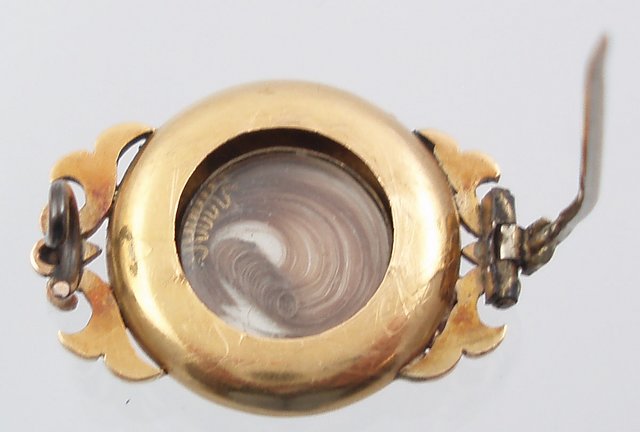 Back of the eye miniature showing the lock of hair.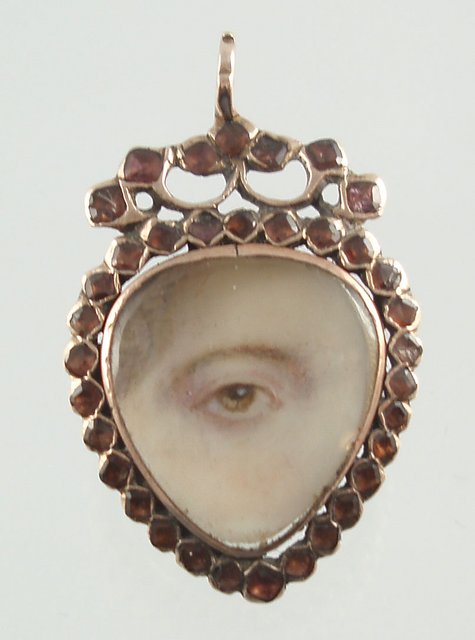 Lover's eye miniature pendant
Georgian
C. 1790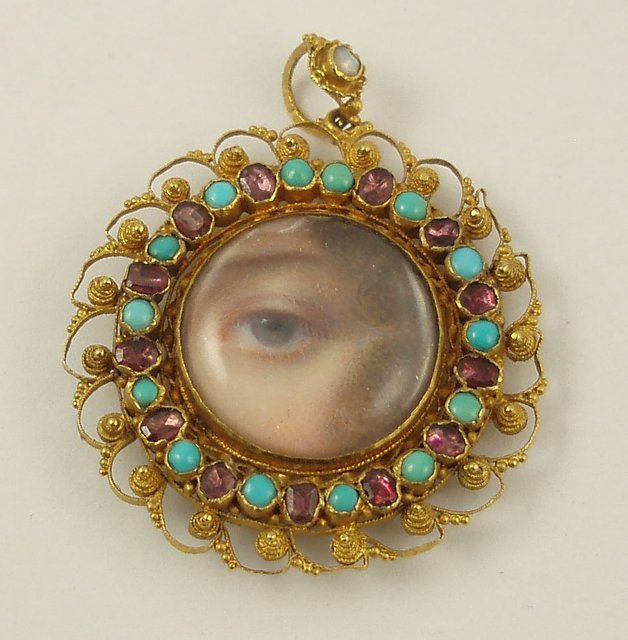 Close up of the eye
Back of eye pendant showing hair compartment.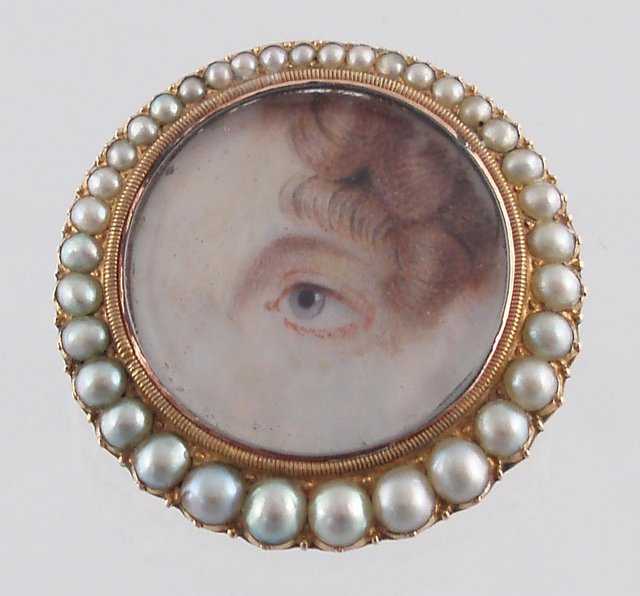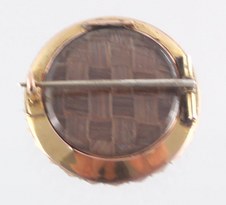 С задней стороны- плетенка из волос.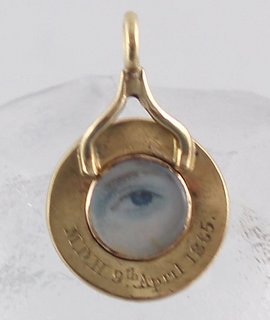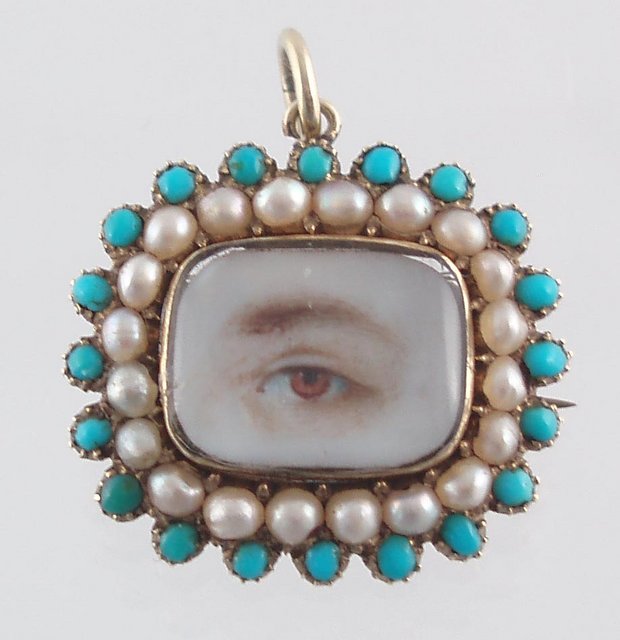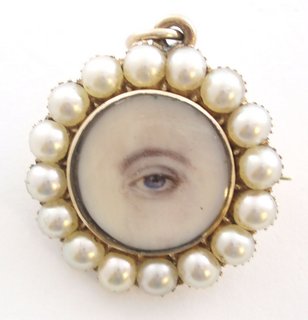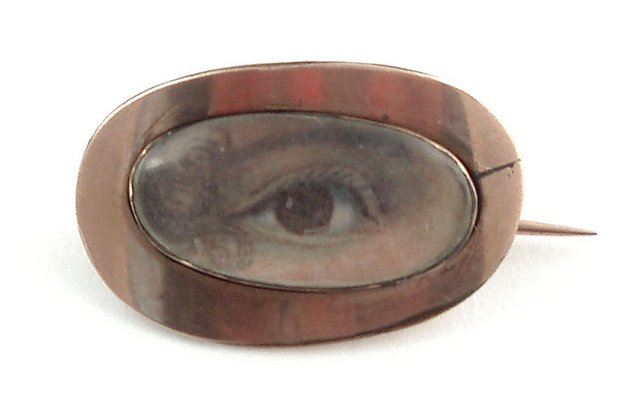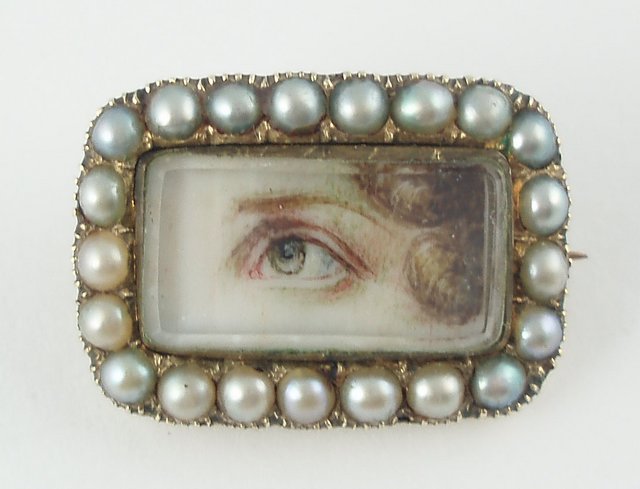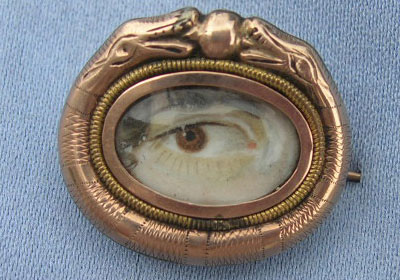 Barbara Robbins
Year: c.1800-1820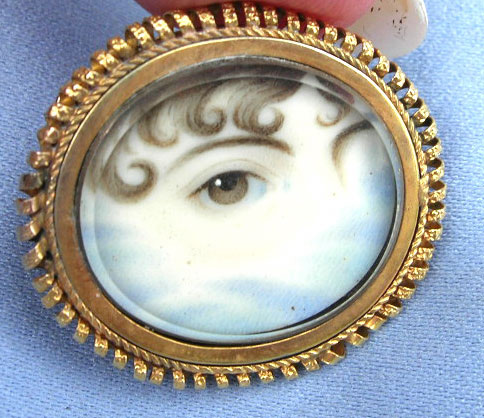 Barbara Robbins
Year: c. 1810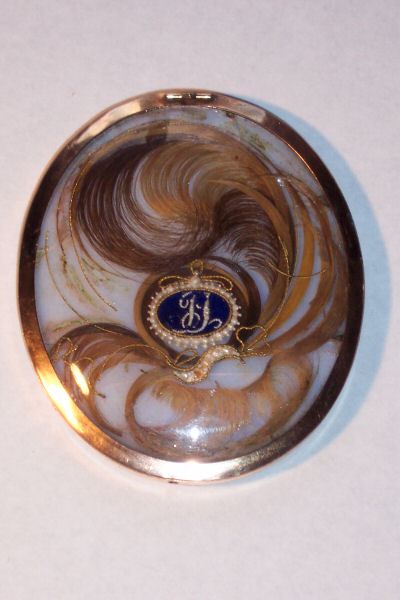 Close up of pearls and hair.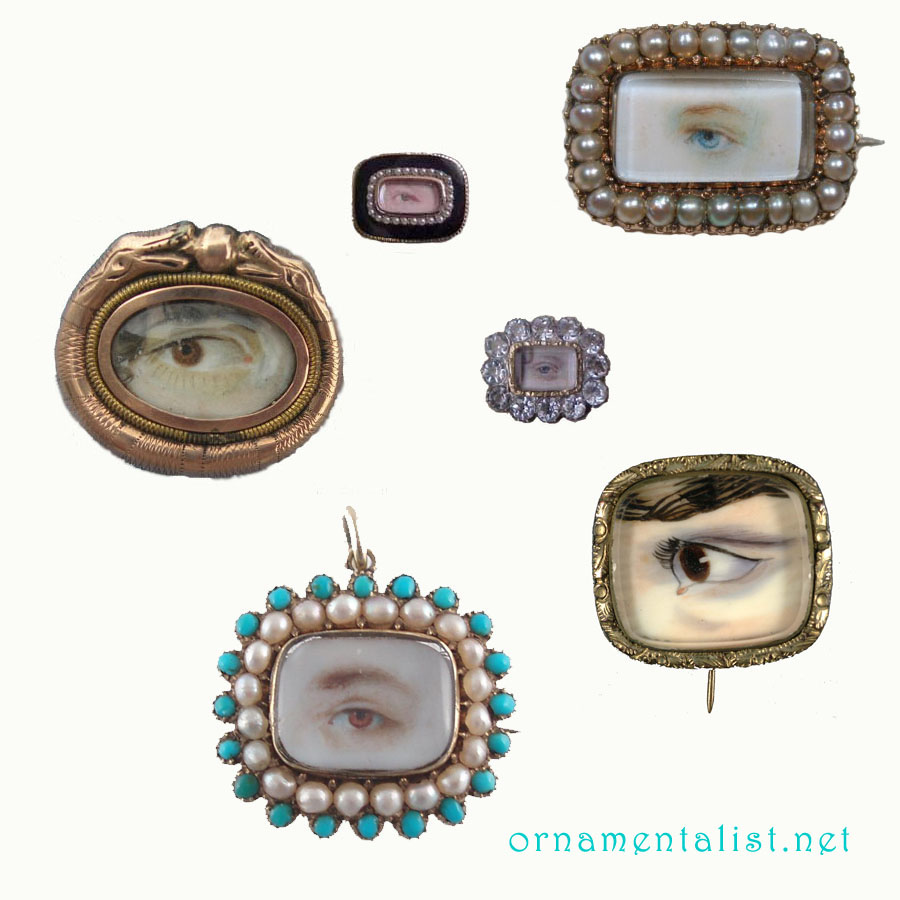 Украшения из волос.
Они известны с 14 века, но особую популярность приобрели в викторианскую эпоху. Из волос любимых и близких людей делали браслеты, цепочки и серьги, вкладывали их в броши, кольца и подвески, причем все это было очень модным массовым поветрием . Поражает то, как искусно и тонко сделаны эти вещи.
Для меня было шоком в какой-то степени узнать, что из волос массово плели венки и помещали их в рамку под стекло- как семейные фотографии, в память об умерших членах семьи и располагали эти дела на почетном месте в гостиной, рядом иногда помещали рамочку с генеалогическим древом семьи. Для нас эти вещи кажутся странными, манера выставления напоказ волос, пусть даже красиво сплетенных, как-то не уклададывается в нынешние понятия об украшениях.
Уникальный музей украшений из волос, там более 2 тысяч предметов, одних венков полторы сотни.
-----------------БРОШИ------------------
----
---------------
VICTORIAN 14 karat hair brooch, 1880
VICTORIAN chalcedony brooch with plaited hair
VICTORIAN palette work hair flower bouquet set into a gold with black enameling lover's knot brooch
VICTORIAN yellow gold filled mourning brooch with curled hair in three shades accented with tiny seed pearls against a pale pink background
VICTORIAN gold and black enamel palette worked hair plumes, seed pearls and golden wire work memorial brooch with engraving on back, "Alex McDonald, obt. 23rd Dec, 1850, Agnes Sanderson, 14th Nov. 1871
GEORGIAN early 1800's 14k yellow gold, garnet and pearl lace pin with hair enclosure
VICTORIAN hair brooch, ornate silver setting with pastes, palette work hair curls and seed pearls
VICTORIAN hair brooch, blond basket weave in forget-me-nots frame
VICTORIAN hair plume palette work brooch with seed pearls and curled wire work
VICTORIAN hair bow pin with acorn drops with the :knot" of the bow of gold tone inscribed with the name "Lizzie", some unraveling at bottoms of acorns. This is shown in the reprint of "The Art of Hair Work, 1875"
VICTORIAN hair brooch with cross pendant and gold filled fittings. This is shown in the reprint of "The Art of Hair Work, 1875" by Mark Campbell
VICTORIAN hair brooch, carved and pierced bone deer insert, hair compartment on back, engraved hoops frame, carving shows some breaks
,-------------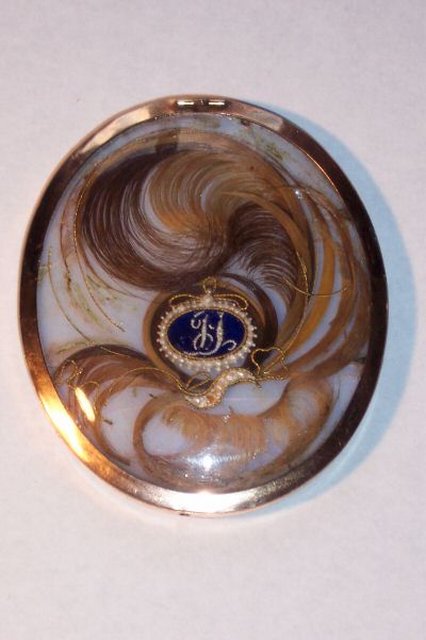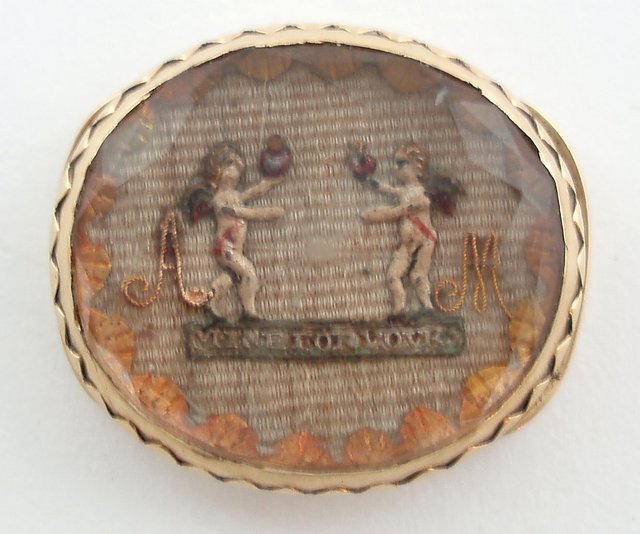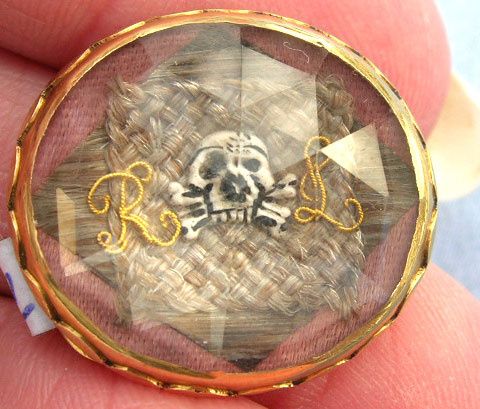 Circular / oval styles became more common in slides during the late 17th Century and into the early 18th Century. The depictions underneath the crystal grow more sophisticated as they evolved, but the sentiment remained the same. Note the evolution of the skull between this time and this ring from 1745. Behind the gold cypher and skull and crossbones memento is a layer of hair and silk, which this picture displays very well.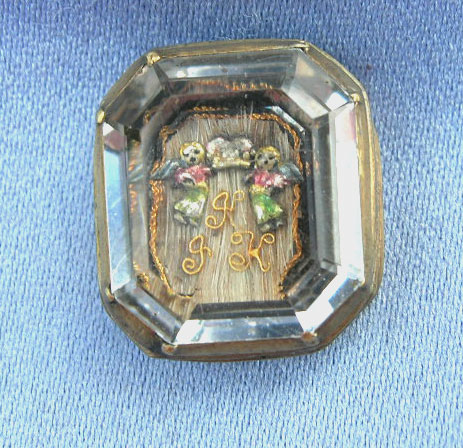 c.1700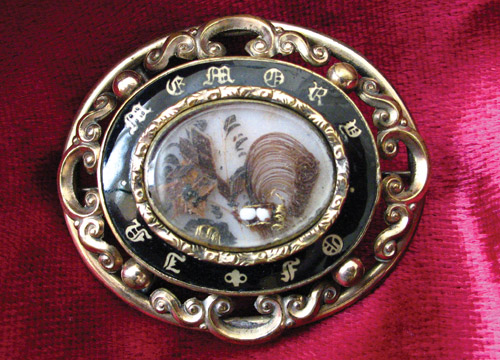 Year: c. 1840
Sarah Nehama
Year: late 18th C.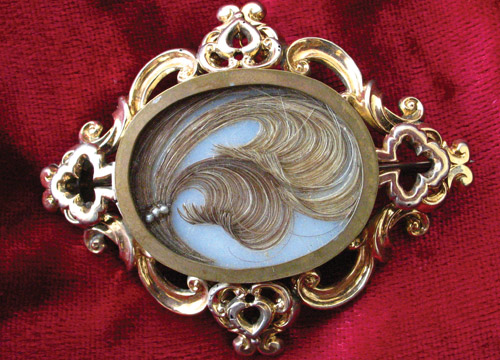 c. 1860
------------------Браслеты--------------
-
(1807-1893).
18K solid case and clasp fittings elaborately engraved and enameled, housing portrait of (yet) unknown sitter of watercolor on ivory with a small surface crack to the ivory. This piece came from a Maryland estate, and believed to be painted by John Wood Dodge, American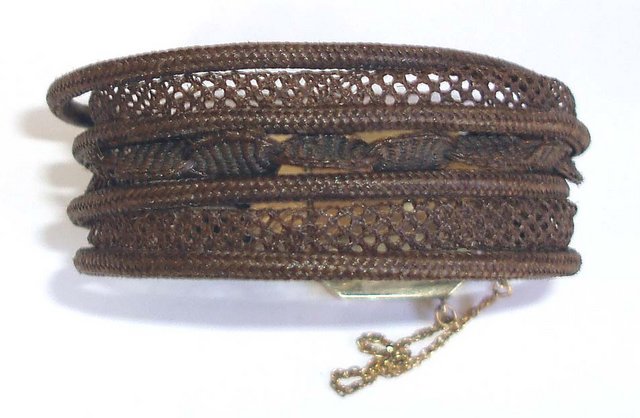 Back view of hairwork bracelet showing different braid styles.
VICTORIAN hair watch fob with crystal barrel, total length
VICTORIAN hair bracelet with etched design locket front
VICTORIAN hair bracelet in an open weave with gold stations and clasp, beautifully made, two hair portions unraveling on back, circa 1870
GEORGIAN/VICTORIAN 15 carat yellow gold hair bracelet with tiny seed pearls and curl over plaited gray-blonde hair, blue enamel, engraved on the back "John Burdon, b. Octr 14th 1811
VICTORIAN hair jewelry, a 14k yellow gold framed bracelet of fifteen tubular hollow links, each a beautifully woven memento with varying tones of hair, and each link inscribed with the source monogram 1875
--------------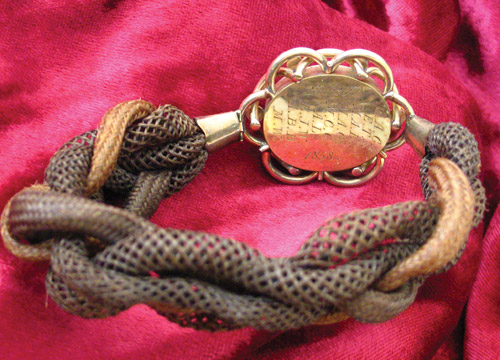 Year: 1855
Hairwork bracelets are more common in sentimental and mourning jewellery. As much as the clasp or goldwork in a bracelet, the hair itself is important. As a memento, entire families could have different hair woven into the band.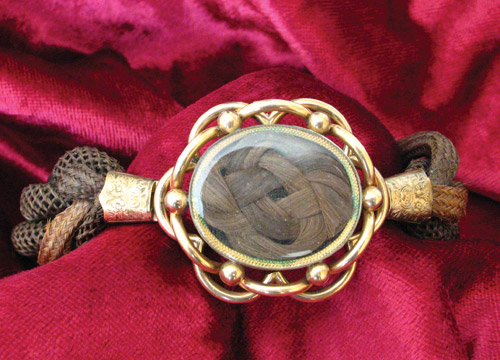 Year: 1855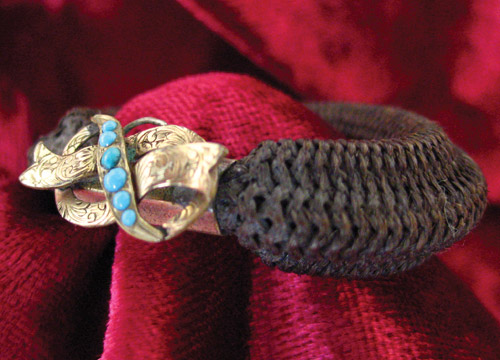 Year: c. 1880
--------------
-
----------------------кольца------------
GEORGIAN memorial hair ring with pearl surround and blonde hair
VICTORIAN HAIR RING 14k with seed pearls surrounding woven hair under a crystal, size 4, circa 1880.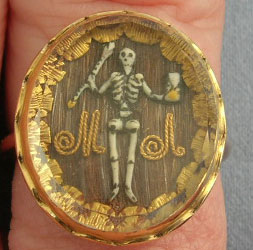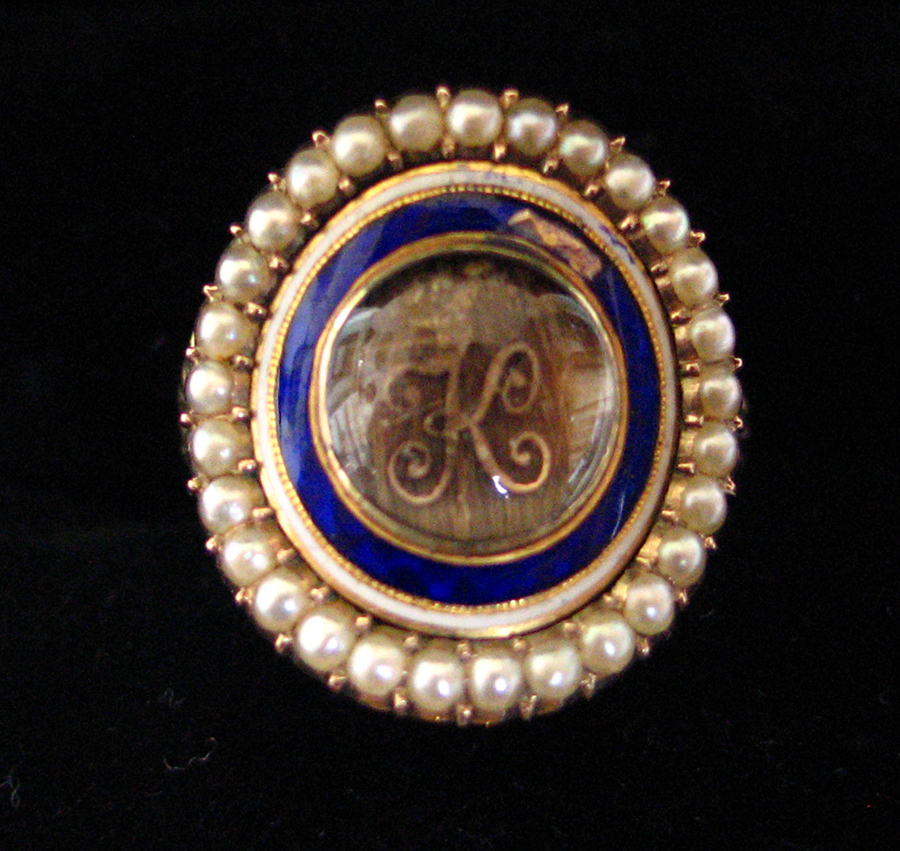 -------------------------СЕРЬГИ---------
------------------
VICTORIAN table worked hair in two tones with gold tone leaves and berries dangle pierced earrings, kidney wire findings, circa 1870
--------------------ПОДВЕСКИ------------
--------------
VICTORIAN puffy heart padlock charm with hair enclosure
VICTORIAN 14k yellow gold hair purse pocketbook charm, circa 1880
VICTORIAN locket with hair compartment inside.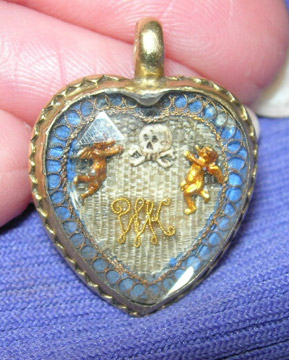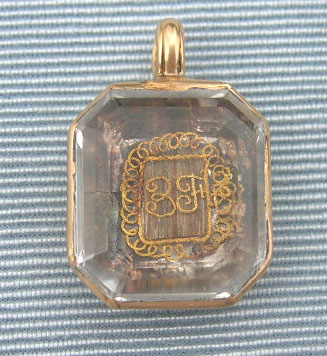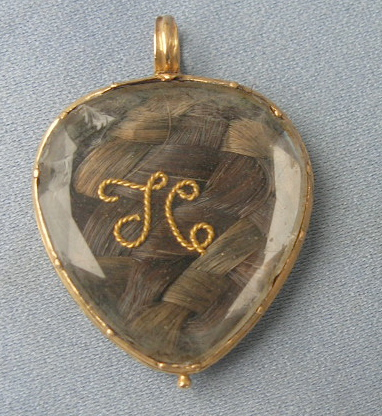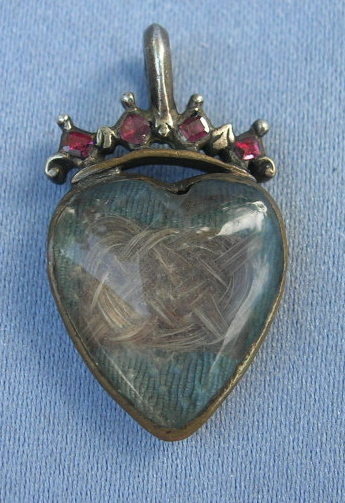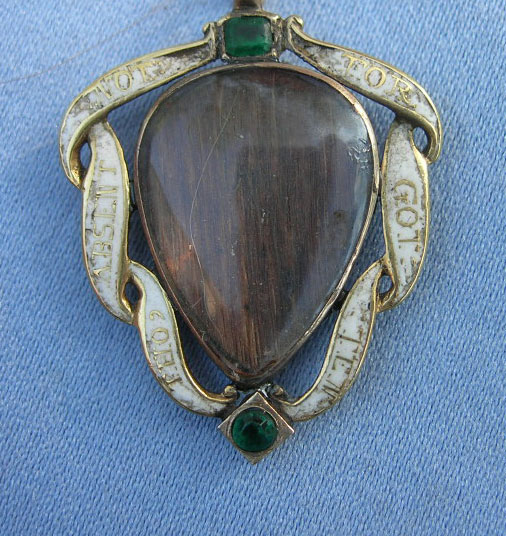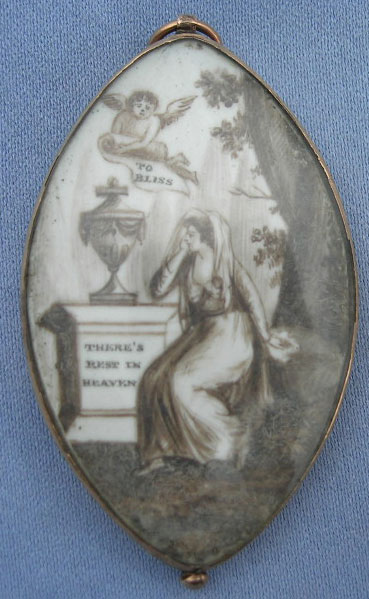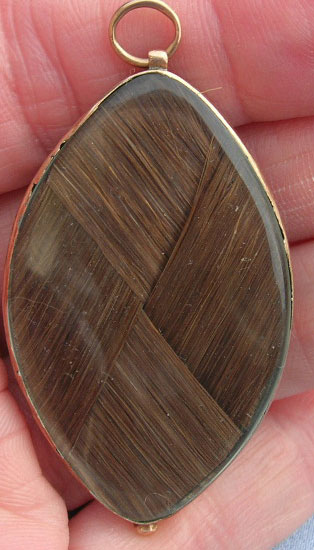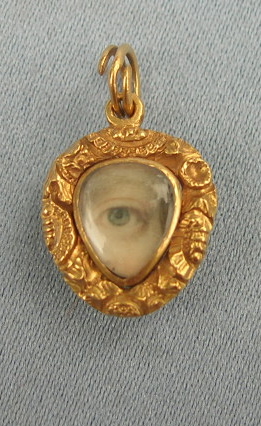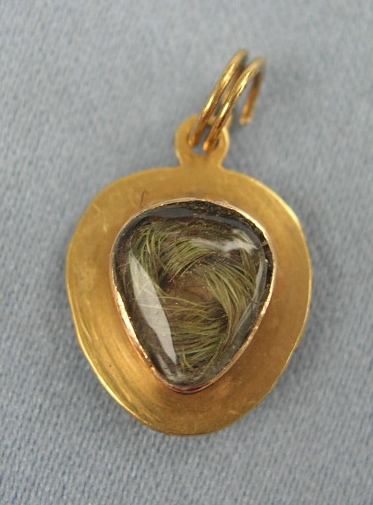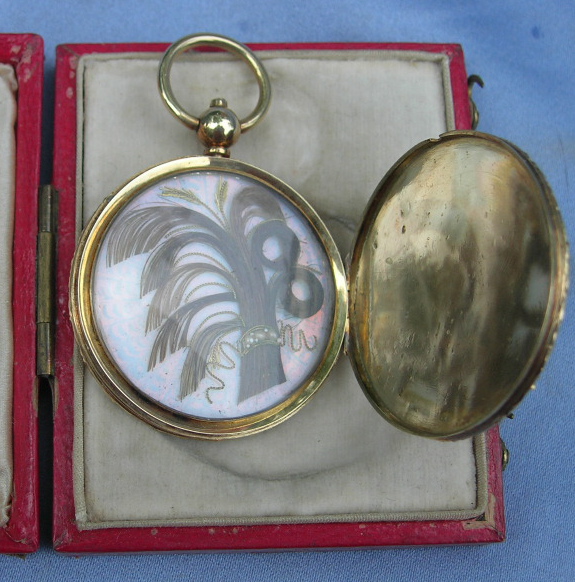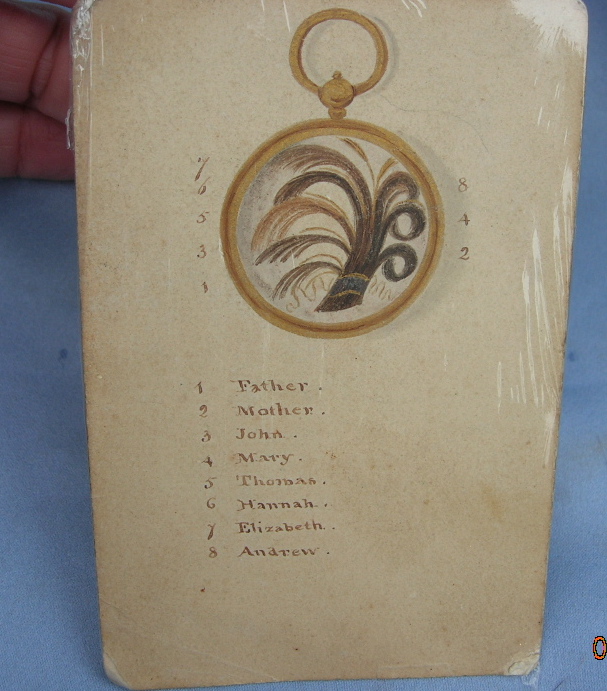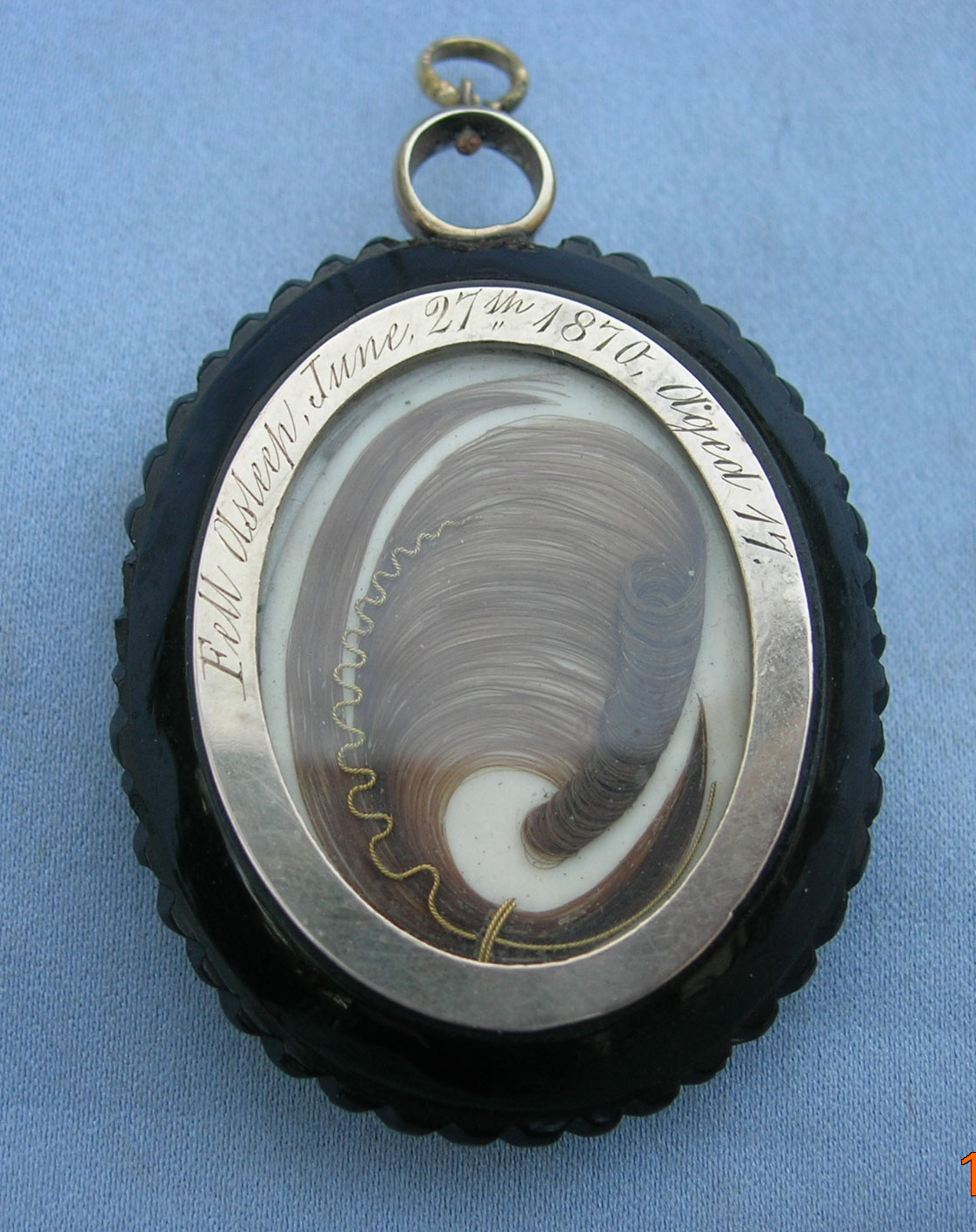 ---------------------ЦЕПОЧКИ------------
---------------------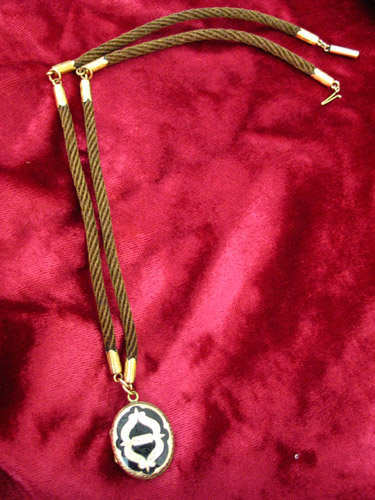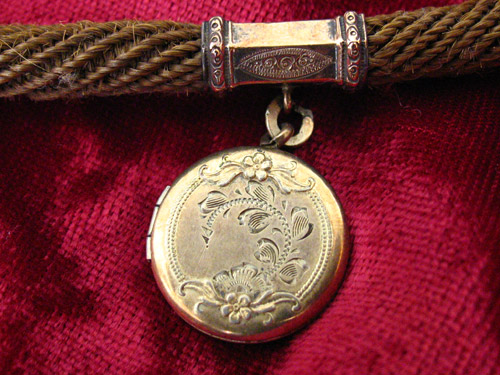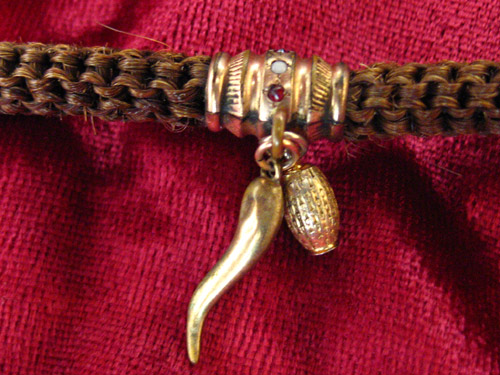 ---------------Композиции из волос------------------
Такие венки существуют в большом количестве, их делали из волос семьи, как своеобразное генеалогическое древо, так и других коллективов- школы или церковной общины. Вершина не была соединена и оставалась открытой, чтобы символизировать восхождение ввысь.
Из волос покойника делали цветок и присоединяли его к венку.
Обычно волосы в центре венка принадлежали к самому последнему члену семьи покойника; они оставались, пока другой член семьи не умер, затем его волосы перемещали в сторону, чтобы освободить место для для волос недавно умершего.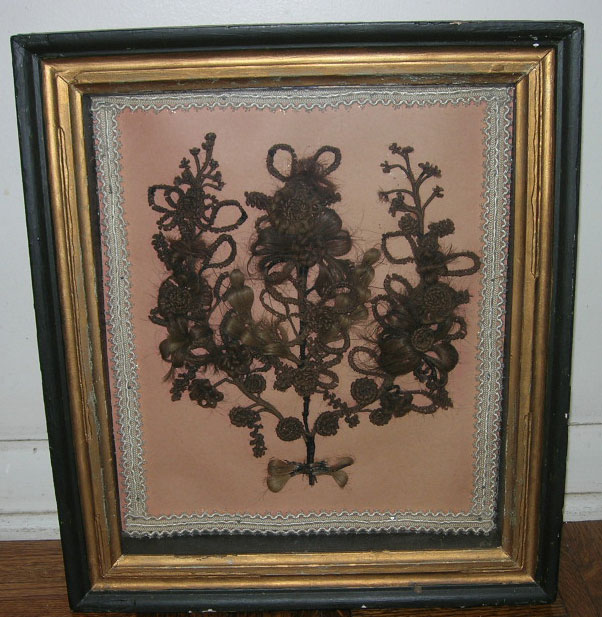 c. 1860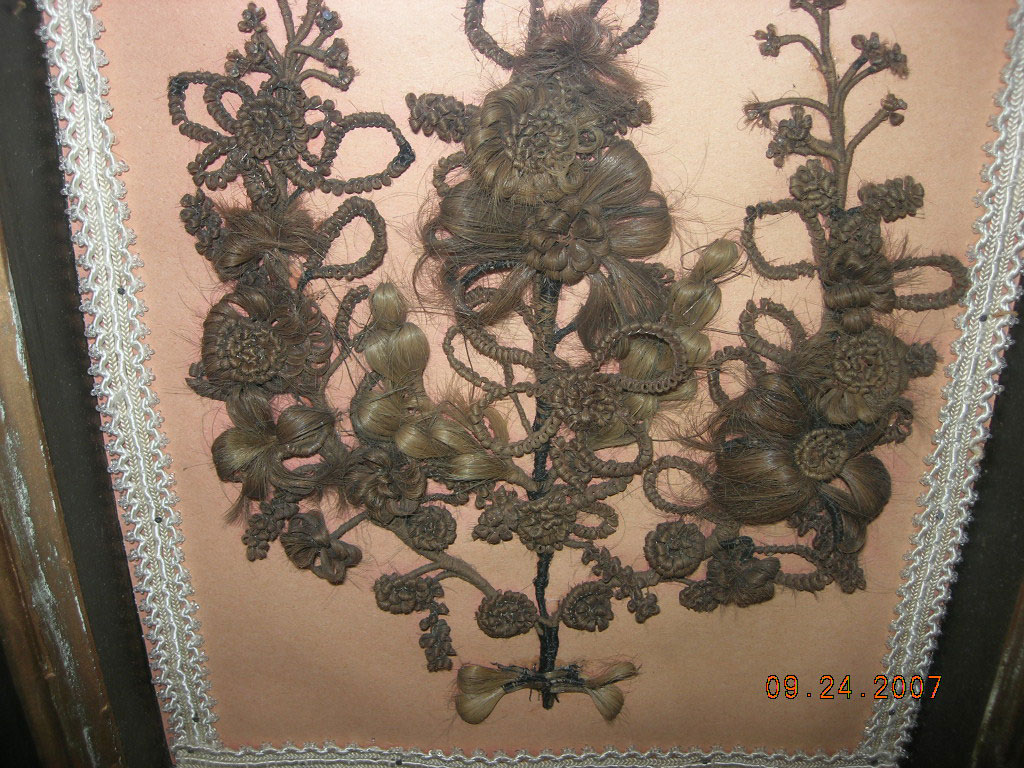 c. 1860
Wreaths can be an exceptional symbol of love from the family unit, often constructed with the hair of the entire family. The simple nature of the weaves and the size of the pieces make them memorials that could be constructed at home, much the same as a sampler. They can relate to being a form of folk art, as they are culture specific and each is unique to its own family.
Another perfect example of French hair art and a wonderful companion piece to the 1851 artwork above. To be noted is the continuity between the two pieces and how the traditional methods of hairworking had not changed, but rather simplifed.
1851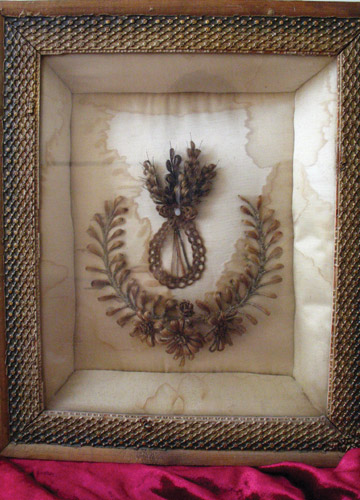 . 1840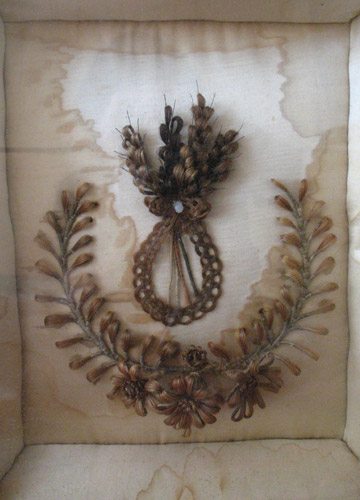 . 1840
Mourning Hair Wreath
ca. 1850 - 1900
human hair, string, wire, wood
Gift of Estate of Gladys Connell Jermyn,
President Ulysses S. Grant's Family hair wreath
it is all human hair
Hair wreath made in 1880. In the Howard County Museum in Kokomo, Indiana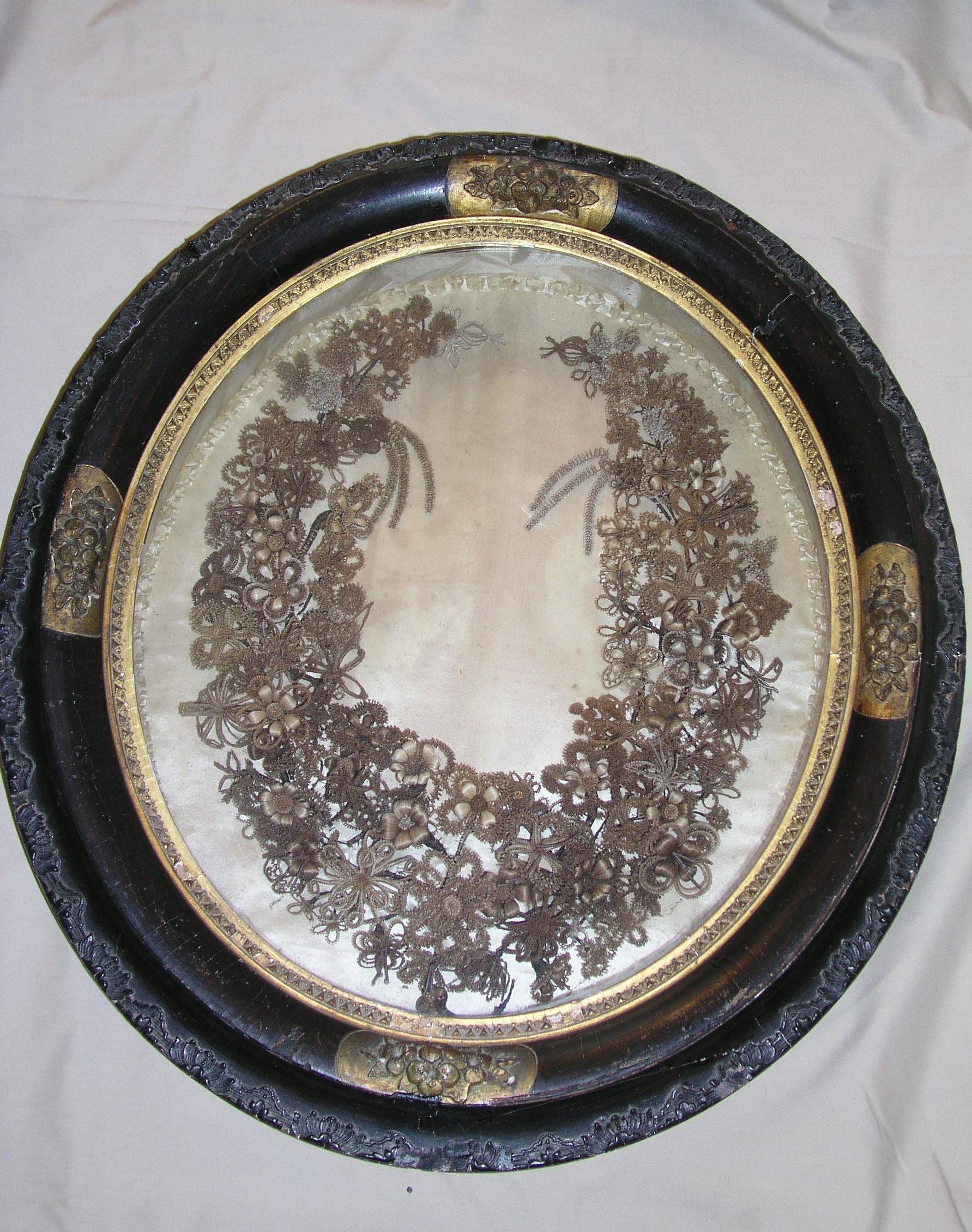 LARGE 19TH CENTURY HUMAN HAIR MEMORIAL WREATH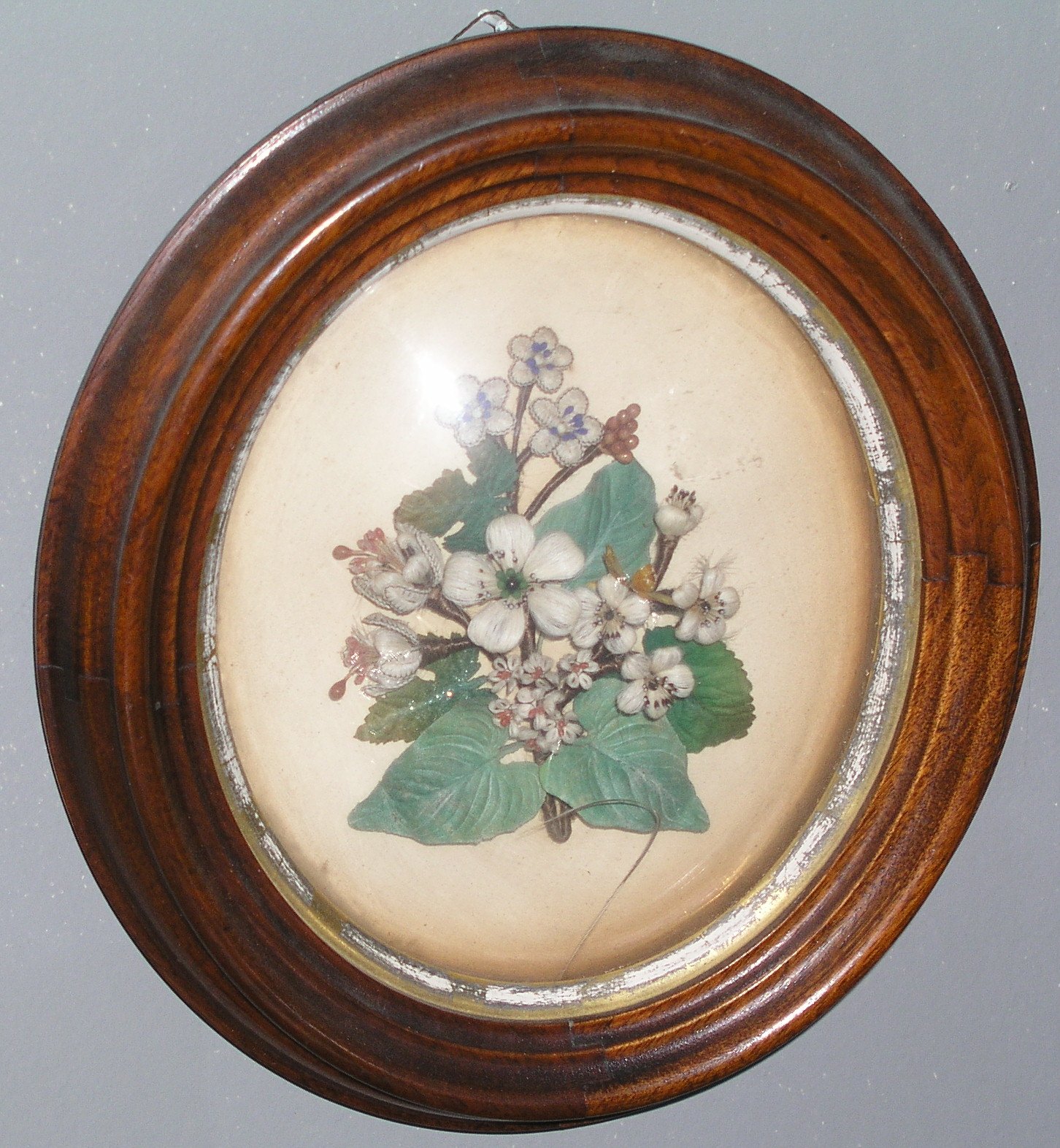 HUMAN HAIR WREATH BUBBLE GLASS
SALE PENDING Big Antique Victorian Hair Wreath & Vase in Shadowbox Frame
-----------------------------Leila's Hair Museum----------------------------------
Leila Cohoon's Hair Museum in Independence, Missouri. Его экспозиция состоит из 159 венков и более 2 тысяч украшений из волос, начиная с 17 века.
"genealogy" hair wreath at Leila's Hair Museum in Independence
Victorian ladies would often collect hair from family members to weave into hair "wreaths" for purposes of preserving family history. The genealogy of this famly is ritten in the center of this framed wreath.
Leila's Hair Museum includes over 300 hair "wreaths" as well as other 3 D art objects such as this domed hair tree.